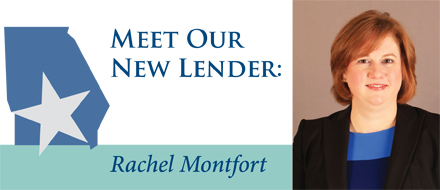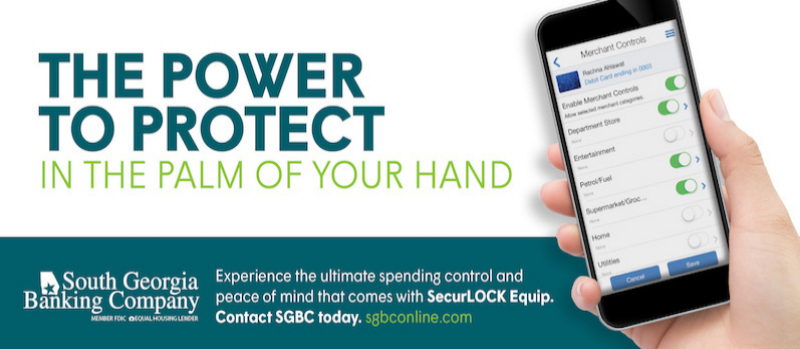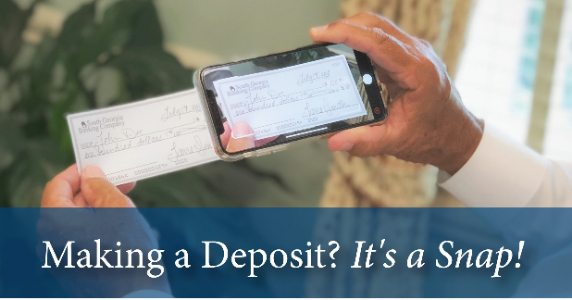 Meet Our New Lender: Rachel Montfort
South Georgia Banking Company announces the addition of Rachel Montfort to our lending officer team.  Rachel is no stranger to local banking; she comes to SGBC with experience in banking, lending and bank branch management.
"I love local banking! Being involved in the community and with the customers makes this job so rewarding," said Rachel. "From business loans and business banking to personal banking, I'm looking forward to assisting customers with their banking needs."
SGBC Introduces SecurLOCK™ Technology
In keeping with our mission to provide our customers with the latest in banking security technology, South Georgia Banking Company is pleased to introduce SecurLOCK™ Equip services to our customers at no charge.
SecurLOCK™ Equip provides our SGBC debit card holding customers with the ability to control how, when and where their payment cards are used.  Consumers want a simple and secure way to protect their card from fraudulent transactions, and SecurLOCK™ Equip real-time transaction alerts and controls meet and exceed those consumer expectations.
With SecurLOCK™ Equip, customers will be able to turn their entire card(s) on and off by channel (in-store, online, mobile, ATM, etc.). Customers can also set transaction spend limits, select geographic locations where the card can be used, set merchant locations, view recent transactions, and even receive alerts.
In offering this service to our personal and business banking consumers, SGBC is ensuring even more security in these ever-changing times of financial fraudulence.  To read more about the SecurLOCK™ Equip technology, click the button below for some frequently asked questions, and feel free to call any of our branches to speak to a customer service representative today.
Need to Deposit a Check? It's a Snap with Mobile Deposit
South Georgia Banking Company now offers Mobile Deposit for personal banking customers!  Using the SGBC mobile app, customers use their smart phone to snap a photo of the check and follow a few simple steps to deposit the check into their account.  The addition of Mobile Deposit is another convenient solution to our on-the-go mobile banking services.  
Mobile Deposit saves time by eliminating trips to the bank and allows deposits to be made before or after bank hours, or on the the weekend!  By downloading the SGBC Mobile Banking application, this service will automatically be available to you.
Ready to get started?  Click here for instructions on downloading the SGBC app.  
As always, SGBC still provides the option of making deposits at our local branches and using our convenient drive-thru service.  Call 1-888-782-4211 or stop by any SGBC branch with questions about Mobile Deposit, we are happy to help!
Learn more about this service by reading the Frequently Asked Questions below.
Read the FAQs
about holiday shopping scams